Judge Dan Sawyer Passes at 93
Dear friend Dan always said he was going to stop by the gym for a final workout on the way to the graveyard. Having a broken leg, he may not have made it. You can bet it wasn't for lack of trying.
Dan told Clarence about the frontal approach to hip replacement. He'd had both the old and new way, and said the difference was like night and day. "With the new approach," he told Clarence, "you'll have so little pain you'll forget to complain."
A pen pal of John Grimek, he treasured his collection of long, typed letters from John relating things that would only be shared with a close friend. We know because he sent us a select few of Grimek's letters. We had to promise on the Bible to return them. Joking, but he definitely wanted them back for safe keeping.
The final section of our book Great Expectations relates Dan's philosophy on heroes, life, and aging.
Titled On the Shoulders of Giants, he wrote: "I won't be Grimek, but I am going to be better for trying - I plug away just as if I am going to make it. This type of chasing rainbows gives me zest for living. I may get older - but never old."
Grimek was one of many hero/role models he had sought to emulate and from whom he drew strength and motivation.
The following is taken from what he wrote:
"I was always attracted to people of outstanding quality. I attached myself to them and tried to be more like them."
The first was the fellow across the street. Next was an English teacher. Then a nutritionist.
"My first admonition is to choose the right heroes. Keep in mind, even if you miss the target, the higher you aim the higher you will hit. Do something beneficial for yourself each day, and don't give up, ever. Study the works of informed people and make friends with accomplished others, and you will be molded by the company you keep.
"...Strive for perfection as if it was a reality and you will be ten thousand times better for trying.
"...Get a running start early as possible and don't stop running. Don't wait for the 'right time' to get started because the right time never comes...."
There's more, but you can see why so many respected Dan and cherished his friendship.
Our sincerest condolences to his wonderful and accomplished wife, Xochitl, and the many others who loved him.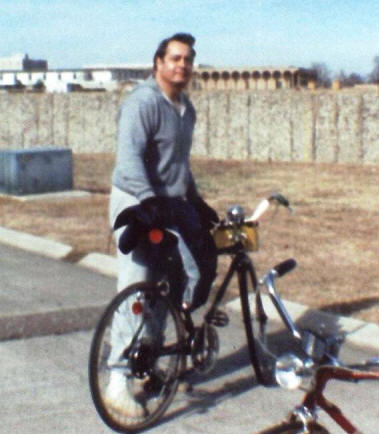 This photo of Dan in his middle years with his bike
and the LSU/Shreveport campus in the distant background captures his essence.
An active mind in an active body. Sent to us by Dan, it's how we'd like to remember him.
* * *
His obituary tells more about his life, his family, and his impressive career at all levels of the law:
https://www.legacy.com/obituaries/shreveporttimes/obituary.aspx?n=harry-dan-sawyer&pid=197883246&fhid=10218
March 1, 2021
---